| | |
| --- | --- |
| Posted on May 4, 2013 at 8:15 PM | |
Although horses are not part of the Cuardach organics side of the farm nor the CSA Vegetable production they do affect the farm in every way and do hold a particularily special place in my heart.

We tragically lost our retired broodmare Ebony Rumor on April 30th of 2013. It hit particularily hard as there was no way i could fix this condition nor any way i could prevent it from progessing to the loss of this horse. It will be some time ( if ever) before I replace this exceptionally natured mare.
She had her last foal here 2 years ago and had since been retired and lived the life of Riley here at the farm with every need catered to from soft bedded stalls to warm mashes in the winter to brushes by local children and a virtual wardrobe of blankets to choose from.The farm virtully ran around her needs, if she was going to get wet and chilled all the horses went indoors. If the bugs were too thick and her paper thin thoroughbred skin was going to get eaten by bugs she got a mesh sheet,if there was a cold storm in the winter Ebs and all her paddock mates went indoors.

She was never sick a day in her life while I had her ...until she contracted a fatal condition called gutteral pouch mycosis. It moved incredibly fast and she was gone in 6 days. She literally had a fan club of local people here to feed her mints,brush her, and fuss over her which she unconditionally loved.
I cannot even think of replacing her right now as this sweet natured mare has carved a huge void in my heart. Things will return to normal here in the very near future but to everyone who has a beloved pet, a cat, a dog, a bird....anything you are close to. We would like to share this wonderful mare with you. She was kind and understanding to a 2year old child hugging her leg to a non horse person who tentatively reached out to give her an apple.
Thanks to all for indulging me on paying tribute to a very special horse who holds a permanent place in my heart.
Rebecca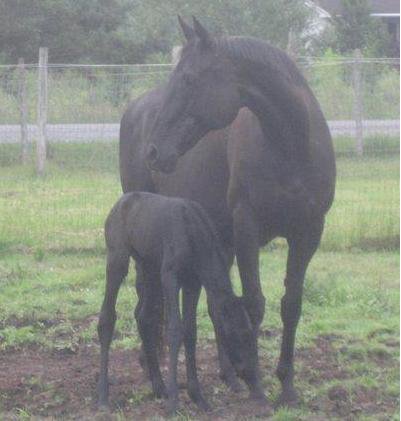 Ebony and Lex ( half holsteiner foal) 2011

Ebony and foal ( Irish Sport horse foal 2006)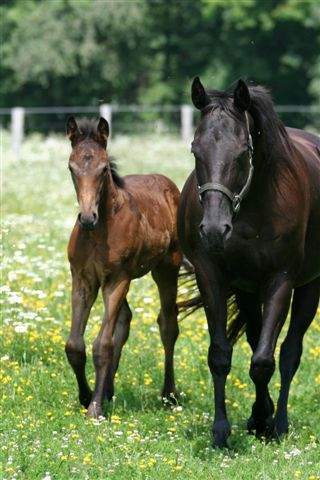 Categories: Cuardach Equine, Cuardach Organics, General Farm news