| | |
| --- | --- |
| Posted on December 16, 2012 at 12:40 AM | |
This natural spray cleaner was inspired by the lovely scent of a spray cleaner that used to be sold by a local Canadian Company. Unfortuneatley for all of us here locally who LOVED the smell it was discontinued. I was able to duplicate the scent as close as i thought by trying different essential oil combinations. This is a natural cleaner but not a duplicate of the original.

The original recipe seems to be  based on a witch hazel base with emulsifiers for the oils. When I am able to put together a similiar witch hazel based cleaning solution I will post the recipe for all of you to try.
This is a work in progress so please do comment on how it works for you/ or doesn't
For those who do not do a great deal of DIY things the recipe can be a bit labour intensive if you don't have the raw ingredients. I am putting together a handmade soap and environmental healthy cleaning product side to the farm so I have a lot of the raw ingredients here. 
Washing soda is heat treated sodium bicarbonate, I cannot find it in the local Ottawa area without ordering it in bulk by the pail.
However: washing soda can be made in your oven from heat treating or  "baking" the baking soda in the oven at 450 for 30-40 min.

The castille soap I make here at the farm but you can purchase a very small "Dr Bronners" liquid castile soap at any health food store that will last you a LONG time.
Please note: If you are local and want to get some of my castille soap and washing soda i will be more than happy to give you a bit to make your recipe. Particularily you local fellow epicure consultants who have been asking me for the recipe.
Natural All Purpose Cleaner

1 teaspoon washing soda
2 teaspoons borax
2 teaspoon vegetable based  "castile" type soap
2 cups hot water

Essential oils (your choice for scent,optional)
20 drops sweet orange oil,
20 drops bergamot,
4 drops  peppermint ( use the peppermint essential oil sparingly as it will completely overpower the other scents)

Directions:
Mix all ingredients except the essential oil in a pot on the stove heat and stir until the borax and washing soda are dissolved
Pour into a spray bottle, this recipe fits into a 500ml spray bottle perfectly!

add essential oils and spray as needed, shake prior to using as there are no emulsifiers in this recipe  and the oils will separate out when the bottle sits. Use on  dirty hard surfaces in your home and enjoy the scent!
This formula is especially good at cutting grease. It can be kept indefinitely in a (labeled) spray bottle.
Happy cleaning everyone

Rebecca

| | |
| --- | --- |
| Posted on December 13, 2012 at 7:00 PM | |
For the first time here at Cuardach Farm a number of heirloom tomatoes were trialed for the 2012 growing season. The rich earth here produces huge growth and the tomatoes flourished. Alas we encountered the notorious tomato blight, which can go through a tomato patch in an unbelievably short amount of time.After some research an organic treatment was discovered and saved a portion of the tomatoes but we will be well armed for next year!
I am hooked on these fabulous tasting unusal tomatoes though and with some planning the goal is to plant a U- pick type of tomato garden where people in our local community can come out and pick thier own black krim, supersnow white, and zebra tomatoes!
In addition we grew the strangest looking, but best tasting zuchini i have ever seen.
Despite the cold and the snow please enjoy our tomato photos
Rebecca
Super Snow White and Black Cherry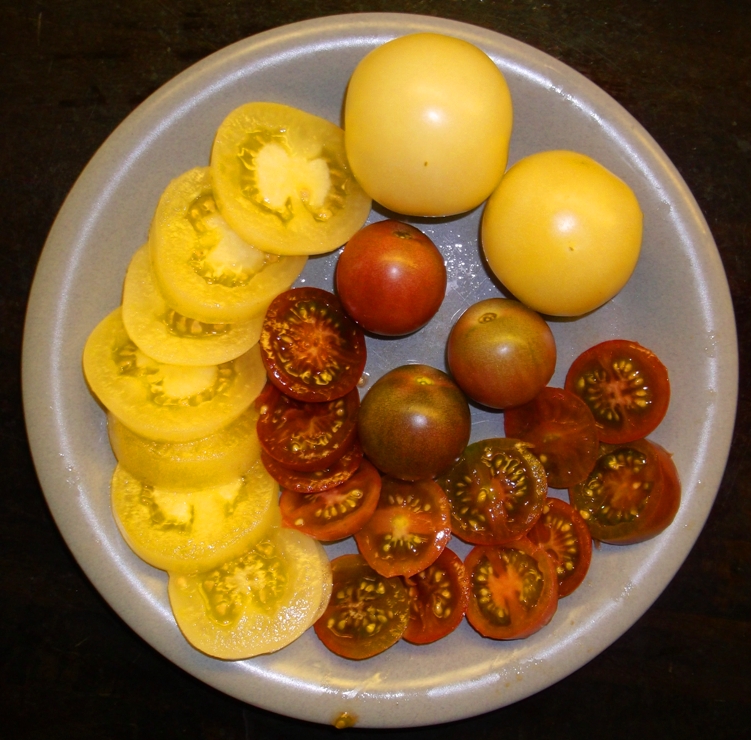 Earl of Edgecombe Orange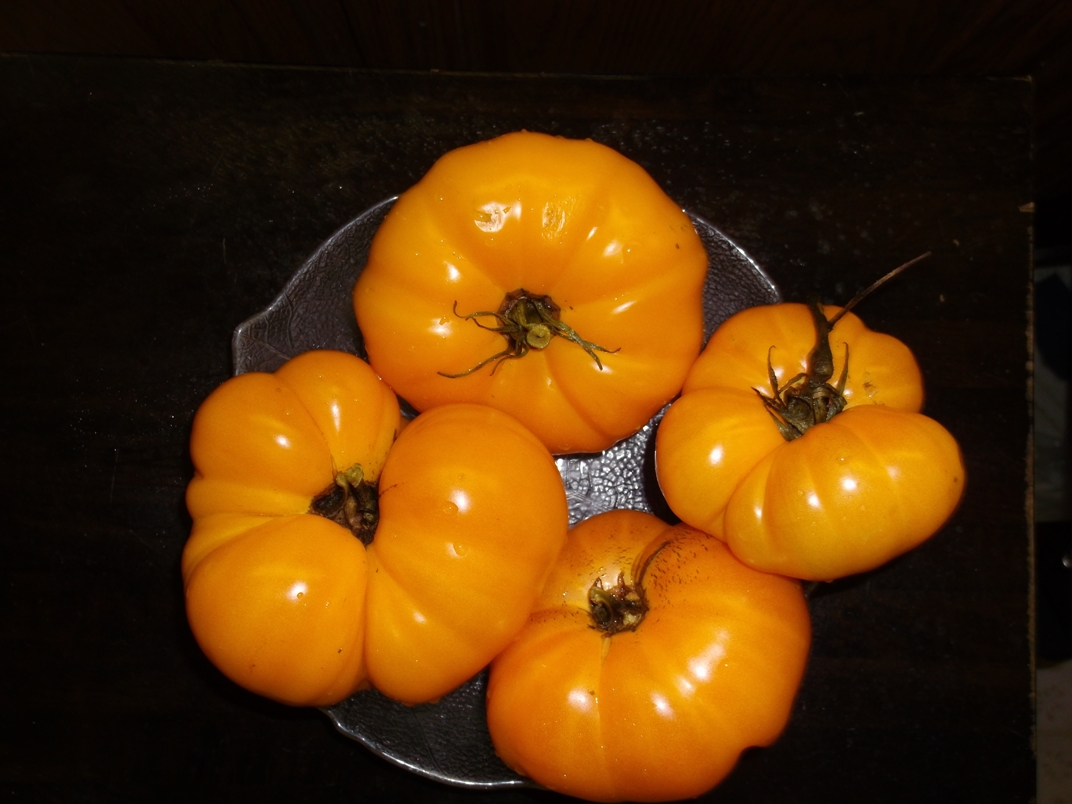 Green Zebra and Black Krim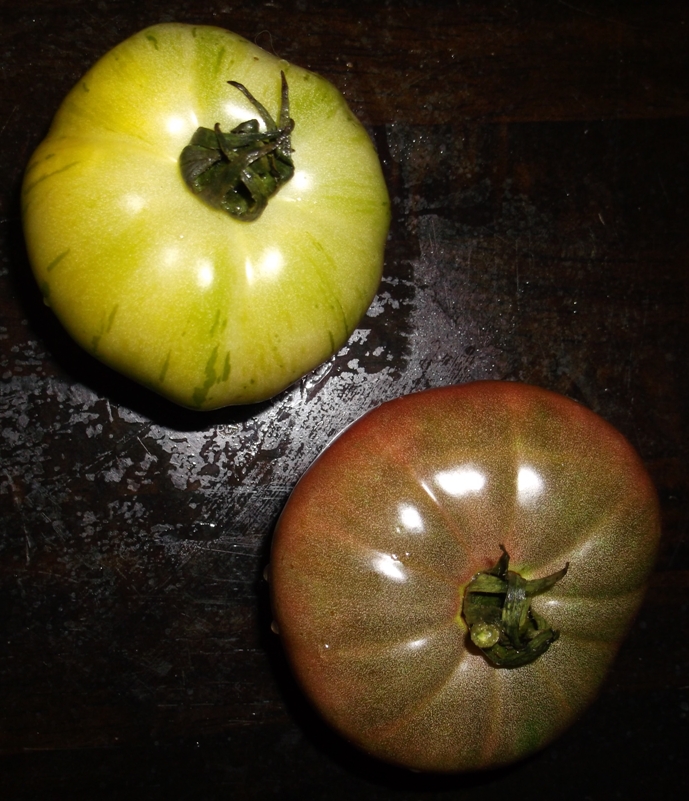 | | |
| --- | --- |
| Posted on October 7, 2012 at 1:10 PM | |
I've actually made this recipe complete. Its a hilarious experience which ends in a really good dinner:)
Have a big group present for this dinner...and to pick you up off the floor if you imbibe in all the drinks in the recipe.

Enjoy
The Black Turkey Recipe
This recipe is not native to Europe, but in some expatriate households we know has become such a tradition at Christmas and/or Thanksgiving that it's started to seem native. (And it has to be said that the Europeans who've dined on it love it dearly.)
The recipe goes back a good ways in both Internet and real-world history, being featured yearly at the venerable Usenet user group rec.food.cooking for as long as anybody can remember. It is famous not only for its results -- which are spectacular -- but its method (which is complex and time-consuming, but worth the time) and its humor and style.
Black Turkey, circa 1963
For about a dozen years, at the approach of turkey-eating season, I have been trumpeting to all who would listen, and to a good many who would rather not, that there is only one way to cook a turkey. This turkey is not my turkey. It is the creation of the late Morton Thompson, who wrote "Not as a Stranger" and other books.
This recipe was first contained in the manuscript of a book called "The Naked Countess" which was given to the late Robert Benchley, who had eaten the turkey and was so moved as to write an introduction to the book. Benchley then lost the manuscript. He kept hoping it would turn up -- although not as much, perhaps, as Thompson did, but somehow it vanished, irretrievably. Thompson did not have the heart to write it over. He did, however, later put his turkey rule in another book. Not a cookbook, but a collection of very funny pieces called "Joe, the Wounded Tennis Player".
THE ONLY WAY TO COOK A TURKEY!!!!!!!
This turkey is work... it requires more attention than an average six-month-old baby. There are no shortcuts, as you will see.
Get a HUGE turkey-- I don't mean just a big, big bird, but one that looks as though it gave the farmer a hard time when he did it in. It ought to weigh between 16 and 30 pounds. Have the poultryman, or
butcher, cut its head off at the end of the neck, peel back the skin, and remove the neck close to the body, leaving the tube. You will want this for stuffing. Also, he should leave all the fat on the bird.
When you are ready to cook your bird, rub it inside and out with salt and pepper. Give it a friendly pat and set it aside. Chop the heart, gizzard, and liver and put them, with the neck, into a stewpan with a clove of garlic, a large bay leaf, 1/2 tsp coriander, and some salt. I don't know how much salt-- whatever you think. Cover this with about 5 cups of water and put on the stove to simmer. This will be the basting fluid a little later.
About this time I generally have my first drink of the day, usually a RAMOS FIZZ. I concoct it by taking the whites of four eggs, an equal amount of whipping cream, juice of half a lemon (less 1 tsp.), 1/2 tsp. confectioner's sugar, an appropriate amount of gin, and blending with a few ice cubes. Pour about two tablespoons of club soda in a chimney glass, add the mix, with ice cubes if you prefer. Save your egg yolks, plus 1 tsp. of lemon -- you'll need them later. Have a good sip! (add 1 dash of Orange Flower Water to the drink, not the egg yolks)
Get a huge bowl. Throw into it one diced apple, one diced orange, a large can of crushed pineapple, the grated rind of a lemon, and three tablespoons of chopped preserved ginger. Add 2 cans of drained Chinese water chestnuts.
Mix this altogether, and have another sip of your drink. Get a second, somewhat smaller, bowl. Into this, measuring by teaspoons, put:
    2 tsp hot dry mustard
    2 tsp caraway seed
    2 tsp celery seed
    2 tsp poppy seed
    1 tsp black pepper
    2 1/2 tsp oregano
    1/2 tsp mace
    1/2 tsp turmeric
    1/2 tsp marjoram
    1/2 tsp savory
    3/4 tsp sage
    3/4 tsp thyme
    1/4 tsp basil
    1/2 tsp chili powder
In the same bowl, add:
    1 Tbsp poultry seasoning
    4 Tbsp parsley
    1 Tbsp salt
    4 headless crushed cloves
    1 well-crushed bay leaf
    4 lrg chopped onions
    6 good dashes Tabasco
    5 crushed garlic cloves
    6 lrg chopped celery stalks
Wipe your brow, refocus your eyes, get yet another drink -- and a third bowl. Put in three packages of unseasoned bread crumbs (or two loaves of toast or bread crumbs), 3/4 lb. ground veal, 1/2 lb. ground fresh pork, 1/4 lb. butter, and all the fat you have been able to pull out of the bird.
About now it seems advisable to switch drinks. Martinis or stingers are recommended (Do this at your own risk - we always did!). Get a fourth bowl, an enormous one. Take a sip for a few minutes, wash your hands, and mix the contents of all the other bowls. Mix it well. Stuff the bird and skewer it. Put the leftover stuffing into the neck tube.
Turn your oven to 500 degrees F and get out a fifth small bowl. Make a
paste consisting of those four egg yolks and lemon juice left from the Ramos Fizz. Add 1 tsp hot dry mustard, a crushed clove of garlic, 1 tablespoon onion juice, and enough flour to make a stiff paste. When the oven is red hot, put the bird in, breast down on the rack. Sip on your drink until the bird has begin to brown all over, then take it out and paint the bird all over with paste. Put it back in and turn the oven down to 350 degrees F. Let the paste set, then pull the bird out and paint again. Keep doing this until the paste is used up.
Add a quart of cider or white wine to the stuff that's been simmering on the stove, This is your basting fluid. The turkey must be basted every 15 minutes. Don't argue. Set your timer and keep it up. (When confronted with the choice "do I baste from the juice under the bird or do I baste with the juice from the pot on the stove?" make certain that the juice
under the bird neither dries out and burns, nor becomes so thin that gravy is weak. When you run out of baste, use cheap red wine. This critter makes incredible gravy! The bird should cook about 12
minutes per pound, basting every 15 minutes. Enlist the aid of your friends and family.
As the bird cooks, it will first get a light brown, then a dark brown, then darker and darker. After about 2 hours you will think I'm crazy. The bird will be turning black. (Newcomers to black turkey will think you are demented and drunk on your butt, which, if you've followed instructions, you are.) In fact, by the time it is finished, it will look as though we have ruined it. Take a fork and poke at the black cindery crust.
Beneath, the bird will be a gorgeous mahogany, reminding one of those golden-browns found in precious Rembrandts. Stick the fork too deep, and
the juice will gush to the ceiling. When you take it out, ready to carve it, you will find that you do not need a knife. A loud sound will cause the bird to fall apart like the walls of that famed biblical city. The moist flesh will drive you crazy, and the stuffing -- well, there is nothing like it on this earth. You will make the gravy just like it as
always done, adding the giblets and what is left of the basting fluid.
Sometime during the meal, use a moment to give thanks to Morton Thompson. There is seldom, if ever, leftover turkey when this recipe is used. If there is, you'll find that the fowl retains its moisture for a few days. That's all there is to it. It's work, hard work -- but it's
worth it.
(What follows is not part of the recipe, but is an ingredients list to aid in shopping for this monster, or for checking your spice cabinet.)
Ingredients List:
    1 turkey
    salt
    garlic
    4 eggs
    1 apple
    1 orange
    1 lrg can crushed pineapple
    1 lemon
    4 lrg onions
    6 celery stalks
    plenty of preserved ginger
    2 cans water chestnuts
    3 packages unseasoned bread crumbs
    3/4 lb ground veal
    1/2 lb ground pork
    1/4 lb butter
    onion juice
    1 qt apple cider
Spice List:
    basil
    bay leaf
    caraway seed
    celery seed
    chili powder
    cloves
    ground coriander
    mace
    marjoram
    dry mustard
    oregano
    parsley
    pepper, black
    poultry seasoning
    poppy seed
    sage
    savory
    Tabasco
    thyme