| | |
| --- | --- |
| Posted on March 1, 2019 at 4:30 PM | |
Hello everyone
Well 2018-19 has been a really long cold and deep snow winter
We are still doing soapmaking workshops and a bathbomb workshop\ as well. Check out the workshops  page at https://www.cuardach.org/workshops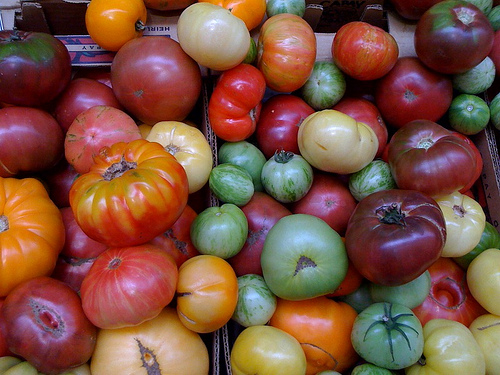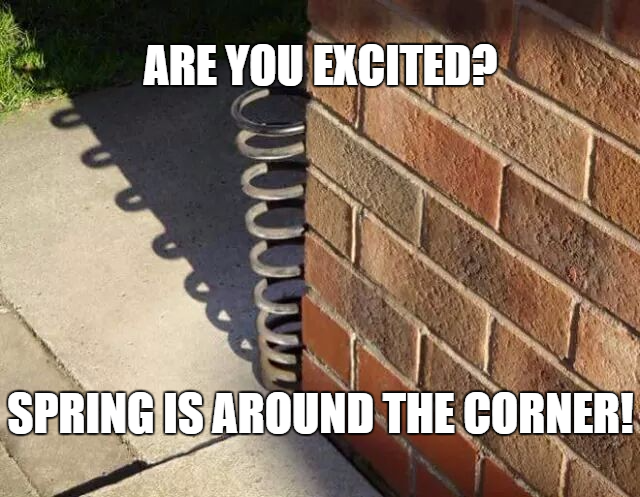 Rebecca
| | |
| --- | --- |
| Posted on February 18, 2017 at 2:20 PM | |
Today I had a new egg customer get in touch asking why my eggs where different colors. The yolks were dark orange, the egg whites were yellowish and some where even greenish colored.Unfortuneatly this customer had thrown out the eggs and was getting in touch saying I had sold them bad eggs.
So...here is some information as to why the egg had differnet colors than a local supermarket egg
Green whites with no bad smell (RIBOFLAVIN)
Greenish color in egg whites is usually due to riboflavin (vitamin B2), that is a desirable component.There is nothing wrong with greenish whites that are most frequently observed in fresh, high-quality eggs. we feed extra kelp to our chickens and it is common to get a bright green hue to the egg white
Orange whites (CAROTENES) 
An orange tinge in an egg white is another item that is normally attributable to diet. Extra carotenes, yellow flowers, carrots, carrot posder in the ration in the diet can cause this.There is nothing wrong with orangy whites this ist frequently observed in fresh, high-quality eggs
A red spot or blob in the egg white
A red spot or blob- this can signify a number of things from a fertilized egg, to a developing chick embryo, or a young hen just starting to lay. This is not harmful and most people fish out the spot of cells with a spoon. 
Super dark orange yolks
Yolk color proves nothing about the egg other than that the chicken that laid the egg had access to varying amounts of carotene. It's not a sign of extra goodness; it's not a sign that the egg is organic. Orange yolks are the result of chickens eating more food with high carotene content.

Sadly the hens and farms that supply grocery stores never usually see the outdoors or supplements to thier diet. The eggs are all graded and any flaw or sport found has that egg discarded.
Our farm fresh eggs are not graded, usually plucked out from under a hen that morning, and all the hens receive a LOT of extra supplements
I hope this helps everyone who has seen these differences in our eggs
| | |
| --- | --- |
| Posted on December 27, 2013 at 3:20 PM | |
Getting snowed in over Christmas ( which i don't mind at all on the farm) and having had enough of Christmas Turkey I started looking through my recipes from last year and made some improvements. The natural deodorant recipes i posted last year were great but not for some people who had some sensitivity to baking soda ( myself included ) After using recipe one and 2 for about 2 weeks I started getting a reaction to the bajking soda and had to stop using the deodorant.
Here is a Baking soda free deodorant recipe for those who are sensitive.I have left the original recipe 1 and 2 up as some folks have had great results with these http://www.cuardach.ca/apps/blog/show/21124687-natural-deodorant-recipe

It makes just enough for one deodorant container

Homemade  Deodorant Recipe #3:
1 T coconut oil                                                   
1 T beeswax
2 T shea butter
2.5 T arrowroot powder
1 T clay, (I used bentonite but kaolin or french green would be fine also)
1/4 t vitamin E oil (2-4 capsules)
2 shelf-stable probiotic powder capsules (optional)

essential oils– aprox. 10-25 drops
The 2 combinations of essential oils that i used were:
10 drops tea tree, 10 drops sweet orange, and 10 lemon with bentonite clay
I also made the recipe with a different type of clay and  used 10 drops bergamot  15 sweet orange and 5 peppermint with rhassoul clay, and without any probiotic capsules

Method:
On the stovetop, ( I used a double boiler) melt coconut oil, shea butter and beeswax, stirring with  a small spatula. 

Add the arrowroot and clay, stirring well.                                               
Remove from heat and add vitamin E oil.  
Let the mixture cool to the consistency of pudding and then add probiotic capsules and essential oils (if using).  
With a small spatula, press into deodorant container, making sure that the tube is rolled all the way down.
Cool in the fridge overnight.
I will keep you all posted how this works for me!
Enjoy and happy holidays

| | |
| --- | --- |
| Posted on December 1, 2013 at 5:30 PM | |
Its been a while since i posted a new message in the blog. Things have been very busy on the farm, we now have Kahtahdin sheep as well as the horses and Chickens. Its definitely not dull around here
Due to request i am posting my homemade Laundry soap recipe
For the soap you can use your own handmade soap, i use a 100% lard laundry bar that i make myself but any laundry soap bar will do.
The soap also separates out so stir prior to using
Enjoy.

Recipe
2.4 ounces of soap (grated)
½ cup washing soda (double for ultra cleaning power)
½ cup borax (double for ultra cleaning power)
Dissolve in pot on stove with approx 4-8cups water
Put in a bucket
Add enough liquid to equal 2 ½ gallon
Shake or stir before using
Use 1/2 cup per load of laundry
also can be used in high efficiency washers due to the low sudsing properties of the soap

| | |
| --- | --- |
| Posted on May 4, 2013 at 8:15 PM | |
Although horses are not part of the Cuardach organics side of the farm nor the CSA Vegetable production they do affect the farm in every way and do hold a particularily special place in my heart.

We tragically lost our retired broodmare Ebony Rumor on April 30th of 2013. It hit particularily hard as there was no way i could fix this condition nor any way i could prevent it from progessing to the loss of this horse. It will be some time ( if ever) before I replace this exceptionally natured mare.
She had her last foal here 2 years ago and had since been retired and lived the life of Riley here at the farm with every need catered to from soft bedded stalls to warm mashes in the winter to brushes by local children and a virtual wardrobe of blankets to choose from.The farm virtully ran around her needs, if she was going to get wet and chilled all the horses went indoors. If the bugs were too thick and her paper thin thoroughbred skin was going to get eaten by bugs she got a mesh sheet,if there was a cold storm in the winter Ebs and all her paddock mates went indoors.

She was never sick a day in her life while I had her ...until she contracted a fatal condition called gutteral pouch mycosis. It moved incredibly fast and she was gone in 6 days. She literally had a fan club of local people here to feed her mints,brush her, and fuss over her which she unconditionally loved.
I cannot even think of replacing her right now as this sweet natured mare has carved a huge void in my heart. Things will return to normal here in the very near future but to everyone who has a beloved pet, a cat, a dog, a bird....anything you are close to. We would like to share this wonderful mare with you. She was kind and understanding to a 2year old child hugging her leg to a non horse person who tentatively reached out to give her an apple.
Thanks to all for indulging me on paying tribute to a very special horse who holds a permanent place in my heart.
Rebecca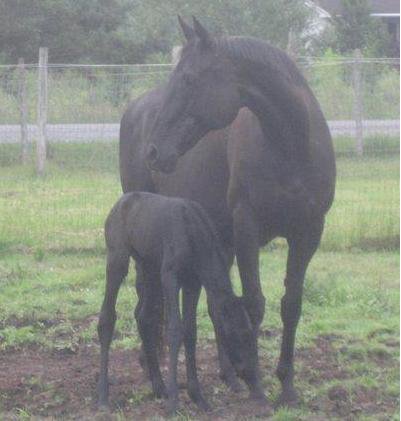 Ebony and Lex ( half holsteiner foal) 2011

Ebony and foal ( Irish Sport horse foal 2006)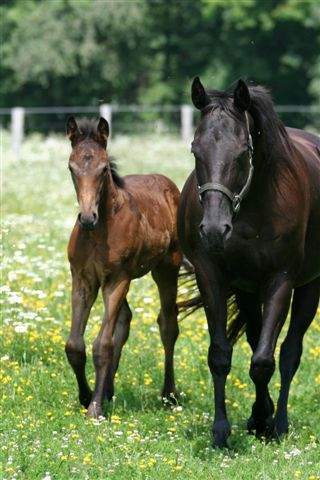 | | |
| --- | --- |
| Posted on April 9, 2013 at 7:15 PM | |
In planning my garden for 2013 one of the things i love to grow is squash. Winter squash is great for long term storage and great eating over the cold non gardening months. I came across a great planner for how long squash keep on johnyseeds.
Guide to Peak Flavor, Storage, and Curing Different winter squashes achieve their best flavor at different times. Whether you grow winter squash for your own consumption or to sell at markets, CSAs, or the farmstand, the general rule of thumb for best flavor and storage is to consume the smallest squashes first.
Use the chart below to gauge your winter squash storage times, and to make certain your squashes are enjoyed at their peak eating quality (Key).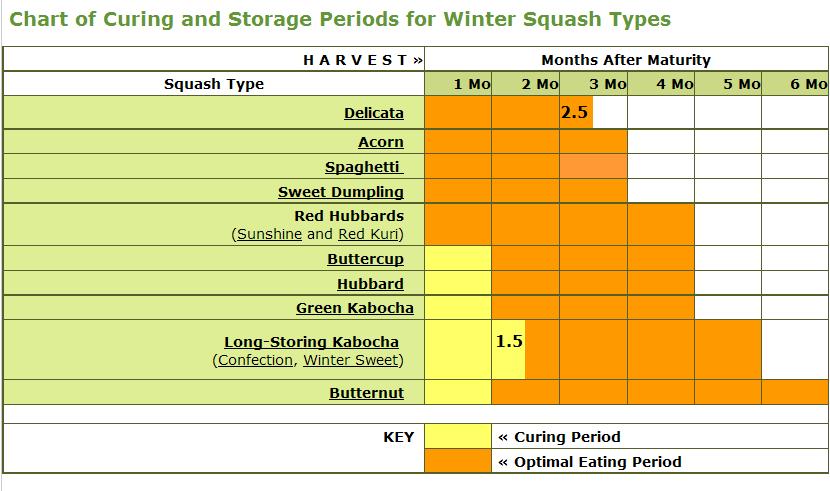 this chart and clickable explanations were found at johnnyseeds.com

| | |
| --- | --- |
| Posted on April 1, 2013 at 5:30 PM | |
Well according to the calendar its supposed to be spring!
However i think mother nature may have forgotten about changing the seasons here in southeastern ontario. Pictures below are the spring essential must haves here at the farm!
Neoprene lined rubber boots for the icy mud,
rubber coated knit gloves for the balmy (more like frigid) spring weather and
the touque! or, as folks south of the 49th parallel say: knit cap
The horses are still in blankets although the longer days are making them shed and we are all hoping for a real spring here, REAL SOON
.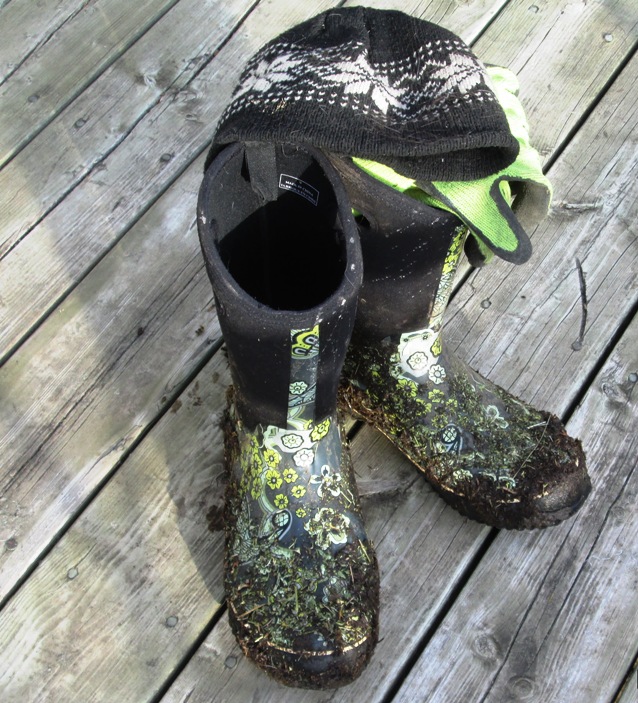 However, garden planning, chick orders and more laying hens are already in the works. Early seeds have been planted under lights indoors, and i think everyone here in Ottawa are hoping mother nature remembers spring and stops sending snow....yes we had flurries on April 1st.
For news,
Our CSA Basket orders are now closed, we had to have an end date to be able to plan the garden. If you missed out we will be having extra vegetable individual sales so get in touch to be added to our mailing list for harvest dates and availability
Our new piglets are growing faster than anything i have ever seen on 4 legs and we are looking at getting a few more in the spring.
They also seem to like to ham it up for the camera
Happy Easter Everyone
Rebecca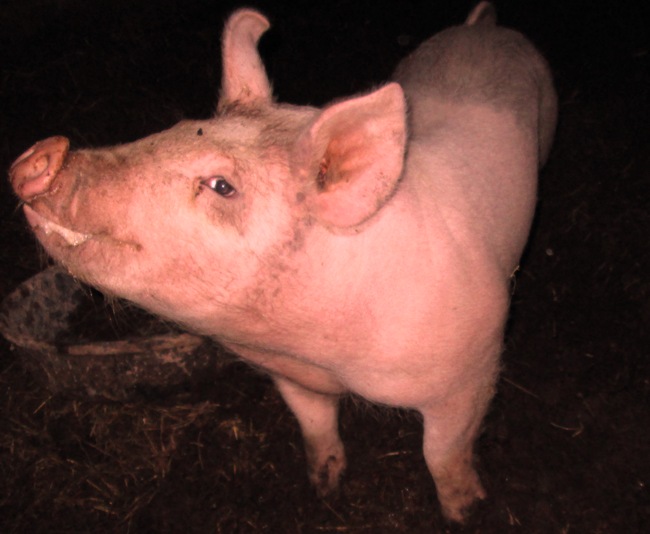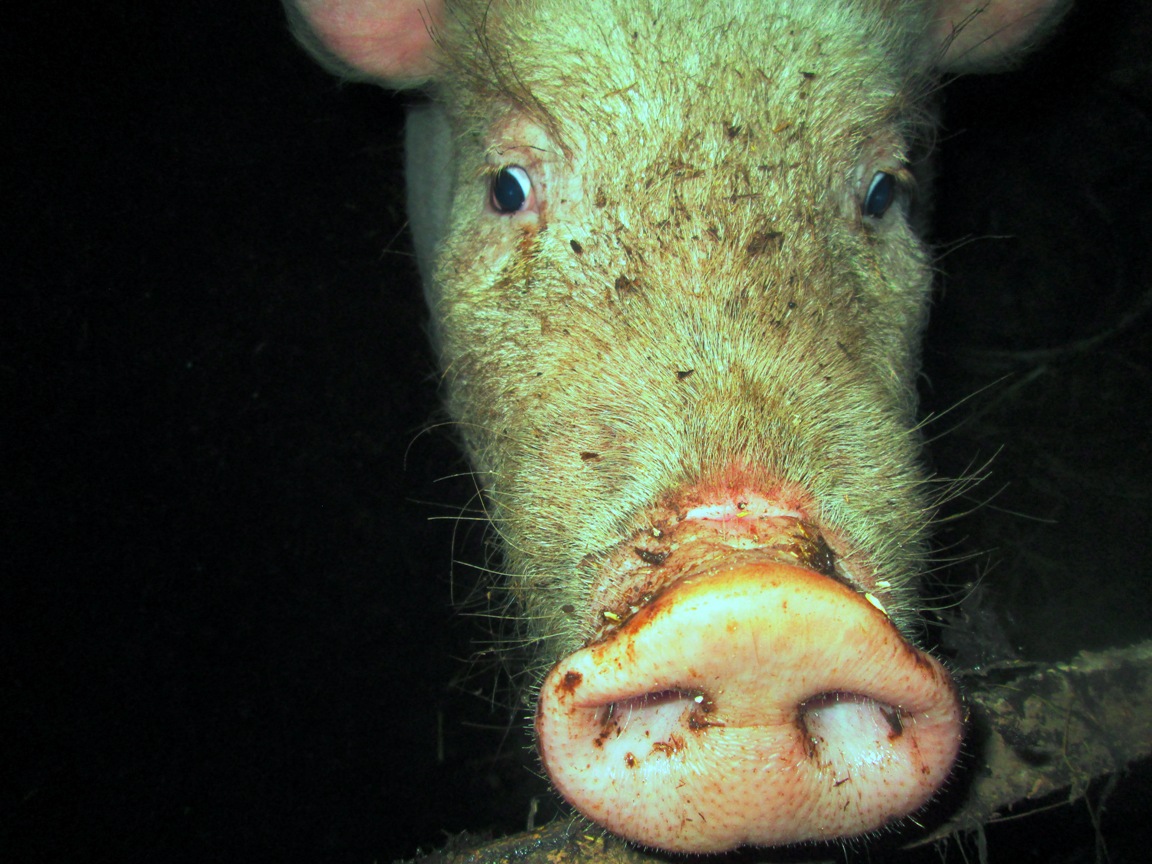 | | |
| --- | --- |
| Posted on February 3, 2013 at 5:20 PM | |
This category is a companion to the soap making workshops I teach and is a resource for the workshop participants.
Anyone who has an interest in home soap making is welcome to use these recipes as well.

The basic all vegetable soap recipe we use in the begiiner hot process soap making workshop is posted along with other recipes and the most popular eight lye calculators

Please click here to access the Soap recipes page  I will update and add recipes from time to time so please check back often.

Prior to using any recipe always verify your ingredients with the lye calculator.

Happy Soapmaking

Rebecca

| | |
| --- | --- |
| Posted on December 28, 2012 at 6:35 PM | |
I know its not even Jan1 but if you love gardening like i do you are already looking at seed catalogues and planning a terrific summer garden. Here is a fantastic online resource Crop-by-Crop Guide to Growing Organic Vegetables and Fruits from Mother eather news: 
Our Complete 'Crop at a Glance' Collection Our comprehensive crop guides take you crop-by-crop through common vegetables and fruits for backyard gardeners. Each guide explains how to plant, when to plant, best harvest practices, how to save seeds, and how to deal with common pests and diseases naturally, setting you on your way to growing organic vegetables and fruits in your home garden successfully.
In each crop guide, you'll also find a list of the different crop types to consider growing, plus a list of recommended varieties for each type. (Use our custom Seed and Plant Finder to locate seed companies that sell varieties you want to try.) If you're curious about how to put a particular vegetable or fruit to good use in your cooking, check out the "In the Kitchen" section of each guide.
Written by expert gardener Barbara Pleasant, our "Crop at a Glance" collection teaches you how to grow everything from garden classics such as tomatoes and squash to lesser-known crops such as Jerusalem artichokes. Our growing guides are arranged alphabetically here, giving you easy, quick access to these succinct articles on home vegetable gardening. If you'd like to access these crop guides plus other gardening tips on your smartphone or mobile device, try our free app called Food Gardening Guide.
There's a sweet satisfaction in growing your own food and filling your table with delicious, healthy produce. We hope these guides help you in your gardening journey, introduce you to new crops and growing techniques, assist when you have to troubleshoot a problem, and ultimately lead you to bigger, more successful harvests.
 http://www.motherearthnews.com/crop-guide-growing-organic-vegetables-fruits-zl0z1211zsto.aspx?newsletter=1&utm_content=12.28.12+FG&utm_campaign=2012+FG&utm_source=iPost&utm_medium=email
| | |
| --- | --- |
| Posted on December 26, 2012 at 11:55 AM | |
I made this as a cranberry sauce for christmas turkey dinner and it was a huge hit. No one except the cook is really sure what the added tanginess is from the oranges and liquer but it disappeared rather quickly.
Enjoy!
Cranberry Sauce With Oranges and orange liquer

Makes 3 cups
Units: US
2 navel oranges
1 (12 ounce) bag cranberries
2 1/2 cups sugar
1 cup water
3 tablespoons Grand Marnier or 3 tablespoons orange liqueur or 3 tablespoons orange juice concentrate
Directions:
1.In a medium, heavy-bottomed, saucepan, combine the cranberries, sugar, water and the zest. Bring to a boil over medium heat, stirring often to
help dissolve the sugar. Reduce the heat to low and simmer until the sauce is thick and the cranberries have burst, 10 to 15 minutes.
2.Using a sharp knife, cut away and discard the thick white pith from the oranges. Slice the oranges up into small pieces.
3.Stir in the orange sections, continue to simmer for about 10-15 more minutes
4 Remove from the heat , (use a stick blender to break up the large chunks if you prefer)and stir in the Grand Marnier.

5.Cool completely...but if impatient like me you can serve warm
6. The cranberry sauce can be prepared up to 1 week ahead, covered and refrigerated. Serve at room temperature or chilled.