| | |
| --- | --- |
| Posted on July 10, 2013 at 10:05 AM | |
I recently found a great article on thehorse.com regarding feeding of horse treats and making your own including a recipes and links to other sites for horse treat recipes.

The auther even conducted horse taste tests and focused on healthy for your horses but good to eat and palatible treats
enjoy the recipes and links
Here is one easy and common treat recipe the author recommends:
Ingredients
1 pound oat-based sweet feed
½ pound flour
4 cups molasses
1 ½ cups beer
Instructions
Mix flour, molasses, and beer thoroughly, making sure flour is well-blended. Add sweet feed slowly, covering all particles. Divide mixture between four well-oiled 12-by-15-inch pans. Place these in an oven set at a low temperature (200-250°F). When the mixture begins to set, cut it into 20 bars per tray. Then place it back into the oven until completely dry. Remove treats from pans and place each bar into an individual bag for ease of handling. These can be very sticky if not baked until completely dry, and baking times vary. For a healthier option, replace the sweet feed in this recipe with whole grains and grated carrot or apple.
The author also shares a few of her favorite equine treat recipe resources:
Passion for Horses recipes: http://passionforhorses.ca/healthy-horse-treat-recipes Easy-to-Make Horse Treat Recipes: www.aboutyourhorse.com/easy-make-horse-treat-recipes Moniteau Saddle Club's 16 pages of treat recipes: www.moniteausaddleclub.com/horse_treats.htm
| | |
| --- | --- |
| Posted on May 4, 2013 at 8:15 PM | |
Although horses are not part of the Cuardach organics side of the farm nor the CSA Vegetable production they do affect the farm in every way and do hold a particularily special place in my heart.

We tragically lost our retired broodmare Ebony Rumor on April 30th of 2013. It hit particularily hard as there was no way i could fix this condition nor any way i could prevent it from progessing to the loss of this horse. It will be some time ( if ever) before I replace this exceptionally natured mare.
She had her last foal here 2 years ago and had since been retired and lived the life of Riley here at the farm with every need catered to from soft bedded stalls to warm mashes in the winter to brushes by local children and a virtual wardrobe of blankets to choose from.The farm virtully ran around her needs, if she was going to get wet and chilled all the horses went indoors. If the bugs were too thick and her paper thin thoroughbred skin was going to get eaten by bugs she got a mesh sheet,if there was a cold storm in the winter Ebs and all her paddock mates went indoors.

She was never sick a day in her life while I had her ...until she contracted a fatal condition called gutteral pouch mycosis. It moved incredibly fast and she was gone in 6 days. She literally had a fan club of local people here to feed her mints,brush her, and fuss over her which she unconditionally loved.
I cannot even think of replacing her right now as this sweet natured mare has carved a huge void in my heart. Things will return to normal here in the very near future but to everyone who has a beloved pet, a cat, a dog, a bird....anything you are close to. We would like to share this wonderful mare with you. She was kind and understanding to a 2year old child hugging her leg to a non horse person who tentatively reached out to give her an apple.
Thanks to all for indulging me on paying tribute to a very special horse who holds a permanent place in my heart.
Rebecca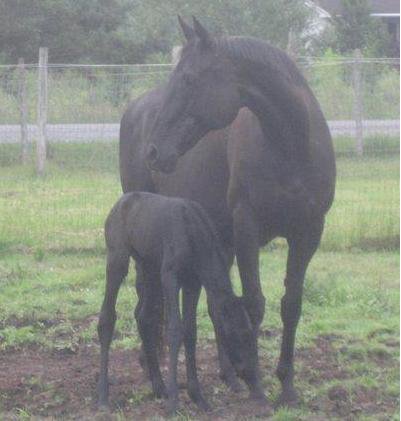 Ebony and Lex ( half holsteiner foal) 2011

Ebony and foal ( Irish Sport horse foal 2006)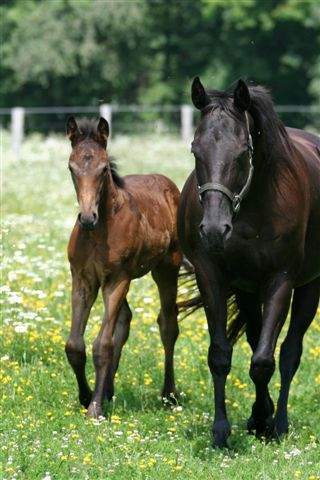 | | |
| --- | --- |
| Posted on January 10, 2013 at 5:45 PM | |
Having a number of  horses here at the farm one of the primary things is to make my dollar stretch. When bug season comes the commercial fly sprays from the tack shop we literally use by the gallon it seems. We live on a heavily forested area with a lot of ponds and prime breeding areas for insects. We have blackflies, a heavy mosquito presence, and of course the dreaded horse fly.
Below are a few bug spray recipes that I have found, formulated to fit what I like, and changed to what I use for what seems to work here and of course not smell too badly.
Feel free to try them out and I will be adding various different ones from time to time.
please note: these recipes are formulated from my own experience and every horse has different sensitivities. Use your own judgement when using different substances on your horses. Your vet is your best adviser as to what is safe for your horses health.

NEW
Fly Repellent Ointment like swatt
I use this a great deal and the cost savings are substantial as it only costs approximately 25%  of the fly repellent ointment in the tack store.My friends all have started using this mix and the cost savings are well worth the trouble to mix this upworth it
Repellant: I use Farnam's "wipe" brand 
I jar of vaselline any size
Mix chosen amount of wipe into a container of Vaseline, ( I use approximately an ounce of liquid per 4 ounces fof vaseline but if you use too much repellant the mixture is too runny to use as an ointment)
apply as needed to belly, flank and areas of horse that are being bitten. Works well for every bug from black flies and horse fly's  to mosquito
Recipe #1 Equine 
2/3 cup(167ml) Listerine Mouthwash
2/3 cup (167ml) apple cider Vinegar
1/3 cup (83 ml) vegetable Oil
20 drops (1ml) spearmint oil
20 drops (1ml) cedar oil
You can also substitute white vinegar if the apple cider vinegar is too strong smelling This one is quite effective
but my colt smells a bit like a pickle.
Recipe 2 Equine
2 cups (500ml) apple cider vinegar
2 cups (500ml) cold prepared tea (sage) or (chamomile)
20 drops (1ml) eucalyptus oil
20 drops (1ml)  lavender oil
20 drops (1ml)  citronella oil
20 drops (1ml)  tea tree oil
20 drops (1ml)  cedar oil
I also added 2 oz of Avon skin so soft (any other oil can be substituted if this is not available where you are)
20 drops (1ml)  emulsifier such as polysorbate 20 but you can skip this step  just  shake frequently
as the oils will separate
 Recipe #3 Equine ( My version of the Skin so Soft Mix)
2 cups (500ml) white vinegar
1 cup(250ml) Avon skin so soft (original formula)
1 cup (250ml) of listerine  
1 tablespoon of Eucalyptus Oil
1 tablespoon of Tea tree Oil
1 tablespoon of Citronella Oil
Formula for Roll On: Equine
I use this in a recycled bottle and roll iton around the ears and face (NOT close to the eyes)
20 drops Eucalyptus oil
20 drops Cedarwood oil
10 drops Tea Tree oil
10 drops Geranium oil
2 oz. carrier oil ( such as mineral oil )
Mix together in a 4 oz. container. Apply to skin as needed avoiding the eye area.
Test on a small area of skin for sensitivities .
Experiment with different percentages of essential oil.
 For Dogs! Natural Bug Repellent Recipe
10 drops Geranium oil
10 drops Lemongrass oil
5 drops Lavender oil
5 drops Peppermint oil
5 drops Eucalyptus oil (Some people like to use lemon scented)
2 drops Catnip oil
Mix the above with 1/4 cup water. Shake well before each use.
Use  all recipes at your own risk and please consult your veterinarian with any questions.
| | |
| --- | --- |
| Posted on January 10, 2013 at 5:35 PM | |
We always want the best for our equine friends

Here are some homemade horse treats for those that like to make thier own
Simple Molasses/Oat Treats
3cups flour
1cup oats
1 cup bran
1 chopped apple
1 chopped carrot
2 cups of molasses
 Mix flour bran, and oats together. Add molasses if the mixture is not doughy or more flour if you require a dryer consistency. . Add carrots and apples.  I dip a spoonful into loose oats and flatten in pan prior to baking Cook until golden brown at 350 degrees.
Peppermint Treats
2 cups of flour
1 cup of oats
1/4 cup of molasses
10 crushed peppermints
2 apples
Mix flour and oats together. Add molasses if the mixture is not doughy. Add water slowly until it is doughy. Add peppermints and apples.
Cook until golden brown at 350 degrees.

Carrot and Apple Horse Cookies
1 cup sweet feed
2 cups bran
1 cup flax seed
4 large carrots, shredded
1 cup molasses
1/2 cup brown sugar
1 cup applesauce
Mix molasses, brown sugar, carrots and applesauce in one bowl. In another mix the dry ingredients. Slowly combine the molassess mixture with the dry ingredients. Add only enough molasses mixture to form a thick dough, add more bran if necessary. Line cookie sheet with aluminum foil using a tablespoon drop batter onto cookie sheet and flatten slightly to form portions about the size of a silver dollar. Bake at 300 degrees for about 1 hour, flip and bake for an additional 45 minutes, until they are dried out. keep checking to make sure they don't burn.
Oatmeal Apple/Carrot balls
1 cup dry oatmeal
1 cup flour
 1 cup shredded carrots or apples
 1 teaspoon salt
 1 teaspoon sugar
 2 teaspoons vegetable oil
 1/4 cup molasses
Mix ingredients in bowl as listed. Make little balls and place on greased cookie sheet. Bake at 350 degrees for 15 minutes or until golden brown.
Peppermint Surprise Cookies
2/3 cup sweet feed
1/3 cup molasses
1/3 cup flour
Peppermints
Mix all the ingredients except for the peppermints. Take a peppermint and put it in the middle of a ball of the dough. Bake at 350 degrees for 21 minutes. This makes about 8 patties. You may double the recipe as many times as you want.
Head Bobbers-  Horses Bob their heads when they eat these:)
1/4 cup molasses
3 or 4 apples, finely chopped
1 cup carrots, finely chopped
2 tablespoons corn oil
1 cup flour
1 cup rolled oats
1/2 cup bran or grain of your choice, optional
Preheat oven to 350 degrees. Lightly grease a large cookie sheet. Mix apples, carrots, oil, and molasses. Then mix in oats and flour. You can either spread the mix on a cookie sheet and break apart after they are baked, or roll the dough out and cut into cookie shapes. Cook for about 20 minutes. Let cool.